I'm Daniela, a fashion and wedding photographer, specialized in fashion and artistic wedding photography + photojournalism.
I work for fashion magazines such as Marie Claire, Elle, Ladies, Woman magazine, l'Officiel, … and I also love to photoshoot lovely weddings.
I'm also available for Destination Wedding photography and worldwide travel.
For more details, please contact me and I will reply. 🙂
---
I'm a very easy going person, who loves to take a walk with my funny dog called Tristan and have chat with friends in front of a good coffee …
Dogs, cats, travels, friends, a good book, long walk, are basically whats makes my life happy along with my work.
Being a photographer is all I always wanted to be, and make beautiful pictures.
I love the simplicity in the photos, with a little creativity, which, it never hurts 🙂 I like to tell
the emotions, the details, the eyes … your love story, so that your special day will always
remain in your memories, simply looking at the pictures.
Sono una persona piacevole e tranquilla, che ama fare lunghe passeggiate all'aria aperta con il mio cagnolino Tristan, prendere un caffè e fare due chiacchere con gli amici.
Cani, gatti, viaggi, amici, un buon libro, lunghie passeggiate sono alla base di quelle cose che mi rendono felice… Come la fotografia che amo da sempre.
Mi piace la semplicità nelle foto, accostata ad un po' di creatività.
Il matrimonio è la vetta di una storia d'amore che deve essere ricordato e memorizzato come l'evento più bello della vostra vita e le foto devono parlare di questo.
MEET : OSVALDO , second Team of the fashion wedding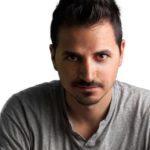 My name is Osvaldo, I am a photographer specialized in wedding and events photography. I was born in Rome and then I fell in love with Venice, where now I live with my beautiful partner and my crazy dog Mario. I started taking pictures when I was a child with my father's old analog camera, he taught me the basics of photography and ten years later I started my career as a professional photographer.
I am a member of the national association of professional photographers, my aim is to create a connection with the subjects; even if I prefer reportage photography I keep interacting with them trying to get them comfortable, giving directions to offer the perfect photo shooting.

How we will work togheter
About pricing:
The price changes along with your different requests.
 Please contact me to have a personalized quotation!
I kindly request you to write an e-mail, with time, location, hours needed and date of your wedding.
How we will work for your wedding:
The day of your wedding there will be 2 photographers, from the preparation till the end of the party (10 hours).
This is the best way to have your wedding shooted in every moment and angle.
In a second moment, we will send you a selection of the best pics of your wedding, and you should decide the 100 best pics to use for the album/wedding book.
The album (30cmx30cm) is made of a special canvas print, guarantee for 100 years.
Along with the album, I will give you the entire selections of pictures (around 700) and the cd with the retouched pictures wich are in the album (I retouch the skin of the bride and everything it takes to makes them look gorgeous…)
This is the way I love to work, so that at the end, you will have all the material with you, and be able to stamp any pics you are in love with.
Come lavoreremo assieme
Cari sposi,
per informazioni riguardanti i prezzi vi chiedo gentilmente di scrivermi una mail con gli orari e il luogo e la data del vostro matrimonio.
Il costo varia anche in base alle vostre necessità: perciò vi chiedo di contattarmi per poter personalizzare il preventivo.
Il giorno del vostro matrimonio saremo in 2 fotografi, in modo da scattare a 360 gradi e in stile reportages tutto il vostro matrimonio, dalla preparazione al taglio della torta e alle prime danze.
A quel punto, in poche settimane sarà pronto il vostro album che può essere spedito o recapitato a mano.